DCC LED Strip Rectifier & Regulation Board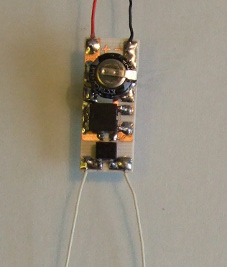 Description
A rectifier and regulator board for use with self adhesive LED strips that require 12 Volts to operate them.
It rectifies and regulates DCC track power to 12 Volt DC and also includes a Stayalive system which holds 12 V DC and can operate the lights for up to 2 minutes after removal of power.
As supplied with the Universal coach lighting kits but without the LED strip.
Dimensions    L.   31mm,     W.    12mm,    D.   13mm.